sustain-alaskas-halibut
Date Posted:
May 20, 2015
Categories:
AMCC Blog
Tags:
Bering Sea, Bering Sea Halibut Bycatch, Calendar/Events, Fisheries Conservation, Get Involved, Halibut Bycatch, North Pacific Fishery Management Council, NPFMC, Reduce Bycatch, Sustain Alaska's Halibut
With the June meeting of the North Pacific Fishery Management Council (the Council) less than a week away, supporters of halibut bycatch reduction in the Bering Sea are working hard to communicate to the Council Alaskans' strong support for bycatch reduction.
The meeting is slated for June 1-9 in Sitka, and will include discussion and potential final action on Bering Sea/Aleutian Islands (BSAI) bycatch reduction.
Since 2005, landings from halibut fishermen have been cut by 63% in the Bering Sea, while halibut bycatch caps for non-halibut fisheries have not been measurably reduced for 20 YEARS! This inequity has created a stark disparity between halibut fishermen and fisheries that harvest halibut as bycatch in the Bering Sea. In 2014, Bering Sea groundfish fisheries killed and discarded 7 times more more halibut (number of fish, not pounds) than the halibut fishery in landed in the same region or over 5 million pounds!
BSAI halibut bycatch in 2014 came in at roughly one million fish, with an average weight of just under 5 pounds. Tagging studies show that from these large groups of juvenile halibut feeding in the Bering Sea, 70-90% of them are slated to migrate to other areas upon maturity. The removal of large numbers of these juvenile animals from the ecosystem is a critical stock concern for any halibut fisherman or consumer in the North Pacific, from California to Alaska.
How to Comment
It is vital that the North Pacific Fishery Management Council (the Council) hear from halibut users from across the North Pacific. Join other fishermen and communities across Alaska and write to the Council today asking them to reduce halibut bycatch caps in the Bering Sea by no less than 50%! The deadline for written comment is Tuesday, May 26, 2015. Only a meaningful reduction will give the halibut fishery and the communities that depend on halibut the relief they need. Policy makers should not prioritize bycatch over other harvests and the long term health of juvenile halibut populations. The North Pacific Fishery Management Council is responsible for managing halibut bycatch in the Bering Sea and as stewards of this resource, it is time to take action to reduce bycatch.
*To submit comments to the North Pacific Fishery Management Council, email your comments to npfmc.comments@noaa.gov with "C2 Bering Sea Halibut PSC" in the subject line. Copy our Congressional Delegations in your comments – Alaska's representatives need to hear how Alaskans feel about bycatch. Letters can be copied to:
Senator Lisa Murkowski – Ephraim_froelich@murkowski.senate.gov
Senator Dan Sullivan – erik_elam@sullivan.senate.gov
Congressman Don Young – bonnie.bruce@mail.house.gov
For more information on how to comment or testify in person, please visit npfmc.org or contact:
Other Ways to Participate:
Testify in person: The Council takes public testimony on every agenda item. The meeting starts June 1 and runs through June 9 in Sitka, AK. To testify in person, sign up at the Council meeting before public comment on that agenda item begins.
Listen online: We will post the link to listen on Facebook on the first day of meetings.
Support AMCC's work on important issues: AMCC has staff at every Council meeting, advocating for the health of marine ecosystems and fishing communities. Donations from individuals like you are essential to maintaining this key role. Help support our work today: donate now.
Read What Other Alaskans Have to Say:
For past updates on this issue, click here.
---
By Marissa Wilson, AMCC Board Member
Originally published in the Homer Tribune
A small but formative fraction of my life has been spent gazing out salt-sprayed windows at rugged terrain and open ocean.  My father's silhouette was always incorporated in the scenery, reflected on the glass that shielded our fragile flesh from the elements. As he sat in the helm seat, occasionally leaning forward to alter our course or to study charts that he had known longer than he knew me, I looked out the window and absorbed what it meant to be a fisherman.
Thousands of miles of coastline, spanning from Attu to Port Townsend, have passed like this. The ocean below our vessel once seemed a vast unknown, prodded only by our longline gear in highly specific areas — little lines draped along ridges at particular depths within abstract boundaries. Throughout my adolescence, I became increasingly aware of certain truths surfacing from those depths. Halibut have become smaller, harder to find, and the amount we've been allowed to catch has declined significantly. Privately, I became concerned about the fate of our ocean-dependent lifestyle. My father has fished commercially for forty years. With the trend I witnessed, I couldn't see how I would manage to do the same.
Adulthood brought the sobering realization that problems rarely fix themselves. With my mind set on a serious long-term relationship with halibut, I recognized the importance of understanding my partner and the issues it faced. I diversified my connection by working on a charter boat. Harvesting halibut for my own freezer strengthened the bond. The deeper I got into the world of fish, the more complex but interconnected it revealed itself to be.
Research from the International Pacific Halibut Commission, conducted since the 1920s, has revealed significant information about the lifestyle of the flatfish.
Halibut move offshore to breed in the deeper waters off the continental shelf. Eggs and larvae get carried with the currents in a counter-clockwise direction, turning an area northwest of the Gulf of Alaska into the landing ground — the nursery — for halibut stock. This is where the Bering Sea becomes a focal point in the lifecycle. As they mature, juvenile halibut begin a southern and eastern migration to counter the initial drift. As such, the Bering Sea/Aleutian Islands, or BSAI, is critical to the abundance of the resource throughout its population distribution.
The groundfish fleet that fishes in the Bering Sea consists of a handful of vessels owned by Seattle-based companies. This small fleet of huge ships drags large nets through the water, targeting groundfish — often shipped overseas for processing and consumption. In the last ten years — since I first started baiting longline hooks — 62.6 million pounds of halibut have been caught and killed in the BSAI as bycatch in those groundfish fisheries, 79 percent of that from one area, the Central Bering Sea.
Most of the halibut scooped up in trawl gear as bycatch are juveniles. Last year in the BSAI, one million halibut were caught in trawls. The average size of those fish: just 4.8 pounds. Beyond the immediate loss of these fish, the depletion of juvenile halibut stock prevents a robust population from maturing and taking hold along the entire coast. Of the juvenile halibut caught in trawl gear, 70 to 90 percent were destined to migrate to the Gulf of Alaska, Canada, Washington, Oregon, and California.
The potential exponential growth of those wasted fish is incalculable, and their documented range makes this a coast-wide issue.
In publications issued by the trawl fleet, the current amount of bycatch is described as inconsequential. Their case is, notably, made in light of the profitability of trawling. Commercial, charter, and subsistence fishers along thousands of miles of coastline would likely disagree about the impact of the loss. Direct users of halibut absorb the negative consequences of a wasteful industry with deep pocketbooks and broad regulatory influence.
I think back to those precious moments of stillness between sets or ports, my tired head resting against a cold salt-sprayed window; reflecting. Will future generations have a robust resource to ponder over?
The coastline I've traced is linked by more than the wake of my memories — it's connected by the processes of life and the power of continuity. Lifestyle preservation is, admittedly, an easy cause to fight for. Culture is the breath of human experience. But protecting personal interests over the health of the environment that sustains us is a plague that has led to the collapse of fisheries all around the world.
To the 2,714 halibut IFQ holders aboard the 1,157 vessels that fish it; the 77 registered buyers of halibut in the 32 communities where those fish land; the thousands of charter captains, deckhands, subsistence fishers, processors, and consumers of halibut: keep the Bering Sea on your radar.
This impacts you.
In June, the North Pacific Fishery Management Council will decide whether or not to reduce the cap on Bering Sea halibut bycatch for the first time in decades. It is imperative that they make a meaningful cut, and reduce halibut bycatch in the Bering Sea/Aleutian Islands by 50 percent. Please speak up on this issue, and send your comments to npfmc.comments@noaa.gov.
For more on the issue visit: halibut bycatch.
---
Commercial, sport and subsistence fishermen and fishing communities find common ground in call for bycatch reduction in the Bering Sea
For more information, please contact:
Hannah Heimbuch, Fisherman & Community Fisheries Organizer at the Alaska Marine Conservation Council, (907) 299-4018
Jeff Kauffman, CEO St. Paul Fishing Company, (907) 952-2476
Simeon Swetzof, Mayor, City of St. Paul, (907) 546-4472
Linda Behnken, Executive Director Alaska Longline Fishermen's Association, (907) 747-0695
Across the state, letters and resolutions supporting the reduction of halibut bycatch caps in the Bering Sea/Aleutian Islands (BSAI) fisheries are surfacing — calling attention to a widespread and diverse movement for change. As directed halibut fisheries in the Bering Sea have reached crisis-level lows, bycatch limits on that same species remains at its decades-long level of 7.3 million pounds. Despite some voluntary bycatch reductions by the fleet, BSAI fisheries killed and discarded seven times more halibut (animals, not pounds) in 2014 than the directed fishery landed in that same region.
For fisherman Jeff Kauffman — an Alaska Native from St. Paul Island and IFQ holder in five IPHC regulatory areas — this represents a trend of inequity that he's seen grow in his 30 years of halibut fishing. After the International Pacific Halibut Commission (IPHC) determines the annual harvest, they take the bycatch numbers off the top. The remainder goes to directed halibut fisheries. The North Pacific Fisheries Management Council (NPFMC) system determines bycatch limits.
"Halibut bycatch comes off the top," Kauffman said. "As directed halibut users, we are always last. It's been very inequitable — the way the situation has been handled. There has been a defacto reallocation from the directed fisheries to the bycatch fisheries." That reallocation trend has occurred in response to a major conservation concern for the halibut resource. In the last 10 years, halibut quota in the Bering Sea has been reduced by 63 percent in an effort to conserve a dwindling stock.
"Conservation of the halibut stock is riding solely on the backs of the halibut fishermen," Kauffman said. "The bycatch allocations have remained relatively the same for decades. We feel that it's only fair that all users of the halibut resource share equally in the conservation of the resource."
In June, the NPFMC will take final action on a measure that proposes up to a 50 percent reduction in the cap on halibut bycatch in BSAI fisheries. Across the state, diverse voices have emerged in support of this measure — seen as vital not only for restoring some sort of economic equity to the BSAI fisheries system, but for essential conservation steps. 70 to 90 percent of under-26-inch halibut are slated to migrate out of the BSAI upon maturity. The average size of the one million halibut caught as bycatch in the BSAI in 2014 was 4.76 pounds, less than half the weight of a typical 26-inch halibut. This high rate of juvenile halibut harvest in the bycatch fisheries is troubling to halibut fishing communities coast-wide, and the potential stock impact across the North Pacific has many calling for a change in the status quo.
"As a younger fisherman beginning to invest my future in Alaska's fisheries, I don't have any choice but to advocate for a better legacy of management," said Hannah Heimbuch, a commercial fisherman from Homer and Community Fishery Organizer for the Alaska Marine Conservation Council. "I want to keep fishing halibut. I want to see fish stocks thriving across the North Pacific coast. I want Alaska to be home to healthy coastal communities that have access to that vital resource. That won't happen if we continue to prioritize a massive take of bycatch over the directed fisheries. I don't want to see any fisherman put out of business, but that is what will happen in coastal Alaska if we refuse to include the groundfish sector in the regulatory conservation of the halibut resource."
On April 15, a group of Alaska legislators sent a letter to the NPFMC, urging them to make a 50 percent reduction in BSAI halibut bycatch to ensure the continued viability of Alaska's directed halibut fisheries. That letter was signed by Senators Lyman Hoffman, Donny Olson, Dennis Egan and Peter Micciche; as well as Representatives Bryce Edgmon, Bob Herron, Neal Foster, Cathy Munoz, Paul Seaton, Johnathan Kreiss-Tomkins, Dan Ortiz and Jim Colver.
A letter sent this week to the Alaska Congressional Delegation requesting their support in reducing halibut bycatch included the following signees:
Alaska Longline Fisheries Association
Alaska Marine Conservation Council
Alaska Trollers Association
Aleut Community of Saint Paul Tribal Government
Aleutians East Borough
Aleutian Pribilof Island Community Development Corporation
Central Bering Sea Fisherman's Association
City of Saint Paul Island, Alaska
Coal Point Seafood Company
Fishing Vessel Owners' Association
Halibut Association of North America
Homer Charter Association
North Pacific Fisheries Association
Pioneer Alaskan Fisheries, Inc.
Tanadgusix Corporation
United Fishermen's Marketing Association
At their April 14 meeting, the Homer Area Advisory Committee for the Alaska Department of Fish and Game discussed and unanimously passed a resolution asking for a 50 percent reduction of halibut bycatch caps in the BSAI. The City of Sitka and the Kenai Peninsula Borough passed similar resolutions earlier this spring, and organizations, committees and city councils around the state are considering passage of the same in the coming month.
Attachments:
Coastal Legislators to NPFMC RE: BSAI Halibut Bycatch 4/15/15
Letter to Alaska Congressional Delegation RE: Halibut PSC 4/22/15
Homer Area Advisory Committee Bycatch Resolution to ADF&G 4/14/15
---
The Every Halibut Counts
 project, a collaboration between AMCC, Alaska 
Sea Grant, and charter boat operators is continuing efforts this summer to provide information on best practices for gently releasing sport-caught halibut. See what's new below!
Hot off the Press: Check out this op-ed in the Homer Tribune  by project intern, Jona Hamson , a deckhand from Homer and intern for the Every Halibut Counts Project.
New Video on Releasing Halibut:  Watch and share this 7-minute video on best practices for carefully releasing sport-caught halibut featuring celebrity fisherman Dave Marciano from the show, Wicked Tuna: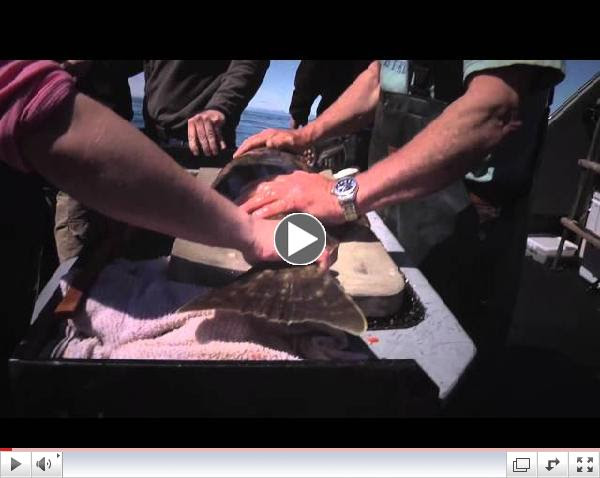 Get Involved: If you are a charter boat operator who practices careful release, make your sustainable practices known by adding your name to the list of Every Halibut Counts project supporters. You will receive a sticker and waterproof placard listing best practices to display on your boat and you can add the Every Halibut Counts logo to our website to let clients know about your best practices. Email sam@akmarine.org to add your name or for more information.
---