magnuson-stevens-act
By Shannon Carroll
Sen. Dan Sullivan (R-Alaska) was recently named chairman of the Senate Subcommittee on Oceans, Atmosphere, Fisheries and Coast Guard for the 115th Congress. The subcommittee, among other things, is responsible for addressing matters that concern federal fisheries; it will be a key player in the ongoing effort to reauthorize the Magnuson Stevens Act (MSA). The Senate has yet to introduce a MSA bill, despite the House passing a bill in 2015, but rumors have been circulating that a draft bill is in the works.
AMCC believes strongly in the MSA. Its record speaks for itself: Since 2000, fishermen and managers have rebuilt more than 40 stocks nationwide, while Alaskan stocks under its jurisdiction have thrived since Congress passed the act. We are therefore hesitant, under the current political climate, to advocate for wholesale changes to the law. In our view, many of the issues facing Alaska and other regions could be addressed through increased funding for key programs such as at-sea monitoring, stock surveys, and enforcement; better use of existing funds; and improved application and enforcement of current laws and regulations.
Should the Senate decide to reauthorize the law, we are excited to have Senator Sullivan carrying on the "Alaska legacy" by taking a leadership position the process. Since Congress enacted the law, Alaska has always played a lead role in shaping our nation's fisheries. Under Alaskan leadership, each reauthorization has been a bipartisan effort to improve the sustainability of our fisheries through reforms based upon science and stewardship. And, because of the lead role that Alaskans have played in the process, reauthorization always been an opportunity to directly address the issues facing Alaskan fishermen. In short, each reauthorization of the MSA has made fisheries management better for Alaskan fishermen.
To date, Senator Sullivan has proven to be advocate for Alaska's fishermen, passing legislation that addresses illegal and unreported fishing, while also working to prevent others from undermining the MSA. This track record hopefully indicates the Senator's willingness to carry the Alaska legacy by putting fish, fishermen, and fishing communities first. To us, that means sensible, smart reforms that will keep this and the next generation of fishermen on the water. These reforms should include improving monitoring and accountability, strengthening community protections, reducing bycatch, and supporting the next generation of fishermen. We look forward to working with Senator Sullivan and the other members of the 115th Congress.
Shannon Carroll is AMCC's fisheries policy director. Contact him at shannon@akmarine.org.
---
By Hannah Heimbuch
It's amazing what you can fit into three days. In the case of three Alaska Marine Conservation Council (AMCC) staff members this October, it was more than 6,000 miles, a half-day of lobbying training and several dozen meetings with congressional offices, agency leaders, and conservation partners in our nation's capital.
This trip to Washington, D.C. was my first, and allowed me to witness firsthand what it looks like when diverse groups truly collaborate in pursuit of a better future. This is the promise I see in the Fishing Communities Coalition (FCC).
Presenting as a unified voice on national fisheries policy, the FCC is made up of conservation-minded, community-based fishing organizations that have found common ground in their policy concerns, despite hailing from different corners of America's coastline. At present, the FCC includes AMCC and the Alaska Longline Fishermen's Association, both from Alaska; the Gulf of Mexico Reef Fish Shareholder's Alliance, from Texas; and the Maine Coast Fishermen's Association and Cape Cod Commercial Fishermen's Alliance, both calling New England home.
For a few short, busy days, we joined our partners from the FCC to visit House and Senate offices on Capitol Hill. We were there to introduce ourselves to decision makers from coastal states across the country. Collectively, we spoke to agency leaders and congressional staffers, covering a variety of policy issues important to our small boat fleets: bycatch reduction, electronic/at-sea monitoring, community access to local fisheries, and improved fisheries data collection, and a strengthened Magnuson-Stevens Act (MSA) reauthorization bill.
As House and Senate offices look at options for MSA reauthorization moving forward, the FCC believes it is vital that this important law uphold or enhance current standards of science-based, conservation-minded fisheries management, while also ensuring access for local communities. These essential measures guide the sustainability of our nation's fish stocks and fishing communities.
In the bycatch realm, we shared important information about the halibut bycatch crisis occurring in the Bering Sea — from the massive removal of juvenile halibut by trawl vessels, to the precarious health of directed halibut fisheries coast-wide. The group reminded congressional delegates of the national importance of the halibut fishery, and of the bad precedent being set, with halibut bycatch becoming the priority use of halibut in the North Pacific.
Group members also voiced a need for progressive policies supporting robust at-sea or electronic monitoring, and cohesion of those practices across Council regions. Issues of insufficient data, major funding challenges, and ease of small-boat monitoring were important coalition-wide, including to small boat fleets in New England deeply concerned about excessive haddock bycatch.
Finally, we communicated the continued need to support local access to fisheries. The coalition shared the success stories and ongoing needs for those access rights by pointing out unique community solutions across the country, such as permit and quota banks, while also pushing for improved community access provisions in the reauthorized MSA.
During our Capital Hill visits, our coalition team divided up into two groups and managed to make 21 meetings with Senate and House staffers in a single day. We covered some significant ground — both under our feet and in our policy work — using our united voice to amplify these important issues. We were able to meet directly with two Alaskan delegates, Senator Lisa Murkowski and Representative Don Young. Sitting next to fellow fishermen and fisheries leaders from around the country, and speaking together for responsible policies, was a truly empowering experience.
It is AMCC's hope that as we continue to advocate for federal policies that support a sustainable fishing future, we can offer that experience to more of our community fishermen, infusing voices from Alaska's small boat fisheries into this national arena. We believe it's particularly vital that young fishermen are given the opportunity to participate in this policy work, something I personally look forward to developing.
Those of us that hope to be fishing for the next 30 years — those of us that want to continue the tradition of fishing families and strong local fisheries — must help to guide the long-term vision of the federal policies that do and will shape management of our marine resources. We must demand robust science- and conservation-based standards that allow fisheries, communities and ecosystems to thrive together.
It was incredibly encouraging to see the FCC paving the way for more community voices — the young and veteran alike — to be heard in a meaningful and collaborative way at a national level. As I head back home to Alaska, it is with the knowledge that our local, regional and statewide work is united with this national conservation ethic, of which AMCC and its members should be proud.
---
The Fishing Communities Coalition (FCC) is a coalition of community-based, small-boat commercial fishing groups, representing more than 1,000 independent fishermen and business owners from Maine to the Gulf of Mexico to Alaska, who share a commitment to the sustainable management of America's fishery resources. The FCC was formed to strengthen and unify the individual voices of its member organizations, which are the Alaska Longline Fishermen's Association, the Alaska Marine Conservation Council, Cape Cod Fishermen's Association, Gulf of Mexico Reef Fish Shareholders' Alliance, and the Maine Coast Fishermen's Association. Together, we work to support thriving commercial fisheries in each of our local communities, while acting as strong stewards of the marine environments off our shores.
Nationally, this group of conservation-minded fishery organizations works together to advocate for small boat fleets in the federal policy arena. We find common ground between our fleets and the complex ecosystems they fish within. The coalition believes it is vital that America's community-based fleets have a meaningful voice in national fishery decisions. We strive to bring our shared ethics of conservation and community-based fisheries to decision makers, and into the core of national fisheries policy.
Check out the Fishing Communities Coalition's brand new website, fishingcommunitiescoalition.org, which features regular news updates on issues the FCC works on, including:
Magnuson-Stevens Reauthorization
At-Sea and Electronic Monitoring
Bycatch Reduction
Permit Banks/Quota
---
By Shannon Carroll, Fisheries Policy Director
Originally featured on the Marine Fish Conservation Network
June was a bad month for fishery-dependent, coastal communities. On the back of the passage of H.R. 1335—a bill that puts short-term economic gains ahead of sustainable fisheries—the North Pacific Fishery Management Council (Council) failed to impose significant bycatch cuts to the Bering Sea/Aleutian Island trawl fleet.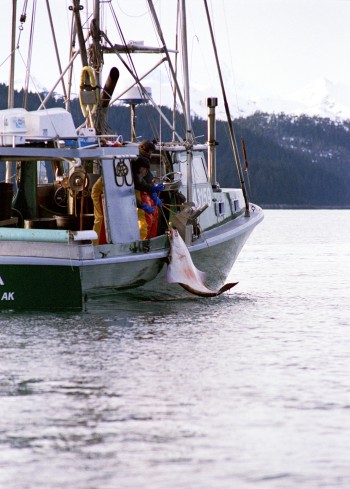 As was noted a few weeks ago, Pacific halibut stocks have been in decline for the past fifteen years. But because bycatch limits have remained relatively static over that time, directed users (those who specifically target halibut in a commercial, recreational, or subsistence fishery) have carried the responsibility of conservation alone, with commercial fishermen in the Bering Sea taking around a 70% reduction in harvest between 2011 and 2014. This situation reached a new level of absurdity in 2014, when the groundfish fishery removed more halibut as bycatch than the entire directed halibut fishery.
While the cuts made by the directed fishery have been felt across the North Pacific, these cuts have been particularly painful for the remote communities of the Bering Sea, such as St. Paul, where the economies and social fabric are nearly entirely dependent on halibut fishing. Coming into the Council meeting, these communities needed more than a 40% cut to bycatch in order to have a directed fishery in 2016.
Under the Magnuson-Stevens Act, the Council must, when amending fishery management plans, adhere to ten national standards that ensure sustainable and responsible fisheries management. These national standards have inherent tension, and it is the Council's job to find balance within these mandates. In the case of halibut bycatch, the Council primarily focused on National Standards 1, 8, and 9. National Standard 1 mandates that the Council prevent overfishing while also achieving optimum yield. National Standard 8 requires that the Council consider community involvement and provide for sustained community participation in the fishery. Finally, National Standard 9 directs the Council to reduce bycatch to the extent practicable.
Balancing these standards is difficult, and because these standards are created to provide some discretion to the Council, they do not dictate a specific outcome. Nonetheless, the halibut bycatch decision demonstrates the limits of these standards, at least with respect to how the standards are disproportionately weighted towards the economics of an industrialized groundfish fleet.
The Council's decision resulted in an aggregate 21% cut to bycatch caps, which only amounts to a 0.7% reduction from 2014 bycatch mortality levels. For the Council, which was short two Alaskan votes due to recusals, the potential economic impacts of decreased groundfish harvest outweighed the smaller economic losses to halibut users. Simply, the Council was unwilling or unable to evenly weigh the benefits of small-scale, community fisheries with those of the industrialized trawl fleet.
This decision will have a significant negative effect on directed halibut users, especially those in the Bering Sea. But it can serve the purpose of shaping our current discussions with respect to Magnuson-Stevens Act reauthorization. Specifically, the Council's decision highlights some of the limits of the current Magnuson-Stevens Act when it comes to addressing bycatch.
Under current standards, curtailing bycatch is limited by the vague and subjective practicability standard and the predominate view that optimum yield trumps bycatch reduction. As the recent Council meeting demonstrates, such standards undervalue community fisheries and overlook the fact that not all bycatch is the same, particularly when one fishery's bycatch supports coastal communities from Nome, AK to Seattle, WA.
Moving forward, strengthening bycatch reduction provisions of the Magnuson-Stevens Act must be a key component of any reauthorization bill. Although the law does mandate some reduction, it must do a better job of distinguishing between different types of bycatch, including bycatch that is itself a valuable and fully utilized fishery. Further, it must also direct the Council to give more weight to sustained community participation as well as indirect economic and social dependence.
Absent such protections, small-scale fisheries that lack the economic clout of the groundfish fleet will continue lose in the National Standards balancing act.
---
Read, listen to and watch the recent press about the Fishing Community Coalition that AMCC is a part of along with Alaska Longline Fishermen's Association, Cape Cod Commercial Fishermen's Alliance, Gulf of Mexico Reef Fish Shareholders' Alliance, and Maine Coast Fishermen's Association. The group of small boat fishing groups is committed to rebuilding marine ecosystems and restoring fishing economies in the reauthorization of the Magnuson-Stevens Act (MSA).
Listen to KCAW's coverage of the newly formed coalition and check out a neat MSA infographic here.
In the Boston Globe: "Regional fishing associations are uniting in an attempt to strengthen the laws that govern fisheries in federal waters. The groups describe themselves as ''small boat commercial fishing groups'' from around the country…" Read more.
Watch a clip about the group here at Your Alaska Link.
---
Newly-formed National Coalition of Fishing Groups Calls on Congress for Further Actions on the Reauthorization of the Magnuson-Stevens Act
The Fishing Community Coalition (FCC) is a newly formed coalition of community-based, small boat fishing groups across the nation. Drawn together by common values of science-based management and community preservation, the FCC is committed to rebuilding marine ecosystems and restoring fishing economies in the reauthorization of the Magnuson-Stevens Act (MSA).
"Healthy fishing communities through healthy fisheries," is the central principal of the FCC, formed specifically to ensure that MSA reauthorization moves our nation forward in our fisheries management regime. According to the FCC, current drafts of the MSA in both the House and Senate fall far short of what is needed to ensure a healthy future for fisheries and fishing communities.
In a letter sent today to the Chairs of the House and Senate committees charged with developing legislation to reauthorize the MSA, the Fishing Community Coalition said, "We cannot realize the full potential—biologically, socially or economically—of our nation's marine fisheries without robust and well-managed fish stocks as well as strong protections for fisheries access in traditional fishing ports. A reauthorization that simply reaffirms the status quo, or, worse, moves backwards, is something our Nation's fisheries and fishermen cannot accept.  We can and must do more."
The Fishing Community Coalition's membership includes the Alaska Longline Fishermen's Association, Alaska Marine Conservation Council, Cape Cod Commercial Fishermen's Alliance, Gulf of Mexico Reef Fish Shareholders' Alliance, Maine Coast Fishermen's Association.
---