halibut-bycatch
By Shannon Carroll
This month, the North Pacific Fishery Management Council (Council) wrapped up its final meeting of 2016 by pulling the plug on the Gulf of Alaska Trawl Bycatch Management Program. Citing an impasse in discussions between the State of Alaska and members of the trawl and processing sectors, the Council passed a motion tabling further action on the agenda item. The program, which has been under development for several years, was designed to provide groundfish fishermen with the "tools" to harvest target species while operating under reduced halibut and Chinook bycatch limits.
From the beginning of the Walker administration, the State of Alaska and the groundfish sector differed over the whether a catch share-type program was the right tool for the job. After a contentious meeting in Kodiak this past June, AMCC was optimistic that a middle ground – one that would bring greater stability to the groundfish sector while also addressing community concerns regarding past catch share programs – could be reached. Nonetheless, members of the Council likened the current impasse to being stuck on a sandbar, and in a 8-3 vote decided that it was better to take a step back from the proposed program.
Despite tabling the action, the Council initiated several discussion papers involving the Gulf of Alaska trawl fishery. These analyses will evaluate, among other things, modifying season start dates and sea lion closures in the groundfish trawl fishery, current protections and stock information for Tanner crab, and the hurdles to implementing abundance-based halibut bycatch management in the Gulf of Alaska. While AMCC sees value in these efforts, we remain hopeful that the Council will continue working towards a comprehensive management structure that fits the unique characteristics of the Gulf of Alaska.
Looking beyond the Gulf of Alaska trawl fishery, and into 2017, AMCC will continue to engage on issues at the Council that affect the sustainability of federal fisheries and impact the next generation of fishermen. At the February meeting in Seattle, the Council's abundance-based halibut bycatch working group will be hosting a workshop to update and gather input on its effort to develop an abundance index for halibut. While this process has proven more complicated than we initially expected, AMCC continues to support moving towards a policy that establishes halibut bycatch caps based on the abundance of the stock. The Council will likely review the working group's efforts during its April meeting in Anchorage. Also during the February meeting, the Council will hear recommendations from the Halibut/Sablefish IFQ Committee. These recommendations stem from the 20-year review of the Halibut/Sablefish IFQ program. 
Finally, the Council will continue work on the Bering Sea Fishery Ecosystem Plan (FEP)—a tool that will hopefully lead to a more comprehensive understanding of the Bering Sea ecosystem and its relationship to Council management actions. The Council recently appointed members to the Bering Sea Ecosystem Team, which will be the lead on developing the FEP. The team is expected to report to the Ecosystem Committee in February, and to the Council in April.
AMCC continues to champion the Council's efforts to implement ecosystem-based measures through the Bering Sea Fishery Ecosystem Plan. We greatly appreciate the work that has gone into the FEP development thus far and look forward to ensuring that the FEP includes defined ecosystem-level goals and measurable objectives and outcomes. 
Shannon Carroll is AMCC's Fisheries Policy Director. He can be reached at 907.277.5357 or via email. 
---
By Hannah Heimbuch
Watching two adults hoist a massive pot of hot cod chowder onto the counter, I wondered if enough people would forgo the fall sunshine to make a dent in it. It steamed there on the counter, flanked by baskets brimming with soft slices of fresh bread, seeming to whisper the secret of festival planners through the ages: If you feed them, they will come.
And they did. It was the first event for the united Homer Halibut Festival and Wooden Boat Festival, and on the inaugural night we joined festivity forces and welcomed our community to the Alaska Islands & Ocean Visitor Center for a movie and speaker evening featuring the almighty halibut and the ships that pursue them. Whether drawn by the prospect of talking fish, or by the savory food magic of Two Sisters Bakery, one by one the room filled with more than 70 seafood lovers and boaters, scientists, and fishermen.
International Pacific Halibut Commission took the floor to share some of the history and science behind the Commission's work and its signature species. We ended the evening with a documentary on the North Pacific's historic wooden halibut schooners, some still fishing after more than a century harvesting halibut. I carried an empty chowder pot back to the truck. Mission accomplished.
By the time the sun came up again, a new team had assembled for our second event, the Halibut Fest Fish Fry, held this year at the Wooden Boat Festival grounds on the Homer Spit. But before we could fry, we had to prep.
Time to engage Homer's steadfast ecosystem of community helpers. Potato salad for 300 people? Easy. Portioning 100 pounds of halibut donated by local fishermen? No problem; Homer volunteers show up with their own fillet knives. Coal Point opened the doors to its kitchen, and our generous sponsors helped us purchase the necessary ingredients. We even discovered that halibut scientists are excellent at both ecological study and making vast amounts of coleslaw. Between our rotating prep cooks, dishwashers, food servers, fish fryers, and clean up crew—plus the generous fishermen of the North Pacific Fisheries Association and the processors that donated time and protein—the community truly showed up for the Halibut Festival.
With full bellies and a fall sunburn, we left the fish fry and headed for Alice's. Before starting a raucous evening with the salty tunes of Rogues and Wenches, we auctioned off a suite of buoys decorated by artists from around Alaska; yet another host of generous supporters that contributed to the success of this year's events.
Homer Halibut Festival is a celebration of this fish we love and the incredible marine ecosystem that supports them. Much as it takes a village to raise a child—or a festival for that matter—the same is certainly true for the fish we rely on and the communities we've built around them. Every halibut caught in the North Pacific, every business that depends upon halibut, and all the people fed by halibut, are the positive results of a complex ecosystem of species and dynamics working together.
Whether we're talking about halibut bycatch, ocean acidification, ecosystem-based fisheries management, clean water, healthy fishing communities, or any number of other issues vital to sustaining our fisheries and fishing way of life, all roads lead back to one essential thing: a healthy ecosystem with many working parts that are valued and considered vital to the whole.
We woke Sunday to a strong southeasterly blow, but the last hours of the festival weren't to be missed. The Kachemak Bay Running Club hosted the 2nd Annual Halibut Hustle 5K run, a loop around the harbor that had us running into a feisty head wind on the home stretch. This made a final visit to the Wooden Boat Festival grounds all the sweeter, gripping cups of coffee and standing around the fire rumbling in the large outdoor stove near the beach, the Rogues and Wenches leading us in some sea shanties to close the celebration, and bid farewell to summer. See you next year Homer, for a bigger, badder Halibut Festival.
Hannah Heimbuch is AMCC's Homer-based Community Fisheries Organizer. She can be reached at hannah@akmarine.org. 
---
The North Pacific Fishery Management Council
is holding its June meeting in Kodiak, where it will be once again be reviewing the Gulf of Alaska Trawl Bycatch Management Program. The long-term health of Gulf communities depends on a management plan that protects the role of independent, community-based fishermen, and the health of all Gulf fisheries. AMCC believes the Gulf Trawl Bycatch Management Program should allow for viable entry opportunities, community protections, and meaningful reductions to bycatch. Additional information about the program is available through the Council's agenda.
If you wish to comment on the management plan, the deadline for written comments is 5:00 pm (AST) on Tuesday, May 31. Comments should be emailed to npfmc.comments@noaa.gov.
Read on for full details…
What's Happening?
Recognizing the importance of minimizing Chinook and halibut bycatch, the North Pacific Fishery Management Council (Council) has recently taken action to set or lower limits on bycatch in the Gulf of Alaska. At the same time, the Council has also taken the position that the current management structure does not provide the trawl fleet with the tools necessary to meet existing bycatch reductions, or further reduce bycatch beyond current levels.
As a result, the Council has been looking at implementing a new management program for the Gulf of Alaska trawl fisheries. In addition to the status quo, the Council is currently considering three options (alternatives):
Alternative 2 is a traditional catch share program that would allocate pollock and cod as target species, and halibut and Chinook as bycatch to harvester-processor cooperatives, based on the qualifying catch history of the trawl members' LLP licenses. Allocated fishing privileges would be transferable, somewhat similar to the halibut IFQ fishery.
Alternative 3 would annually allocate halibut and Chinook bycatch to harvester-processor cooperatives, based on equal shares, some measure of dependency and engagement in the fishery, or some combination of the two. This bycatch quota could be traded within a cooperative, but is not transferable without also selling the vessel or license.
Alternative 4 would allocate a specified percentage of quota to a Community Fishing Association (CFA). Quota allocated to the community is then used to address community goals of keeping a local fleet, providing a viable point of entry for new entrants, equitable crew compensation, and vessel/owner residency.
The Council Needs to Hear From You
During the June meeting in Kodiak, the Council will be looking for community input on the Gulf Trawl Bycatch Management Program. Hearing from community members about what they would like to see in the new program will go a long way in ensuring that community protections, bycatch reductions, and future access measures are included in the final action.
What's Next?
Written Comment: If you wish to comment, the deadline for written comments is 5:00 pm (AST) on Tuesday, May 31. Comments should be emailed to npfmc.comments@noaa.gov.
Public Testimony: There will be two opportunities to testify at the June Council meeting:
The Advisory Panel will begin hearing the GOA Trawl Bycatch Management Program agenda item on the afternoon of Thursday, June 9th. The Advisory Panel will be meeting in the Elks Lodge.
The Council will begin hearing the same issue on the morning of Saturday, June 11. The Council will be meeting in the Pavilion Room of the Convention Center.
If you'd like more information on submitting written comments or offering public testimony, contact Shannon Carroll, at shannon@akmarine.org.
---
By: Shannon Carroll, Fisheries Policy Director
Last June, the North Pacific Fishery Management Council (Council) promised to take further action on halibut bycatch in the Bering Sea. Over the course of the past several meetings, the Council has followed through on that promise, developing a draft strategic plan for halibut issues, strategies for improved communication with the International Pacific Halibut Commission (IPHC), and a framework for an abundance-based halibut bycatch policy.
During the April Council meeting in Anchorage, the Council voted to continue evaluating an abundance-based approach to halibut bycatch in the Bering Sea. This followed a presentation by the abundance-based bycatch workgroup—which consists of Council, National Marine Fisheries Service, and IPHC staff—as well as testimony by halibut stakeholders, including AMCC. The workgroup's current focus is determining an index for halibut abundance that can, among other things, be used to effectively capture the impact of bycatch removals on Bering Sea halibut. The workgroup will continue analyzing various indicators used to measure halibut abundance and will be holding a public workshop sometime in August. Abundance-based halibut management will likely be on the agenda again in October.
AMCC appreciates the Council and workgroup's continued effort find a long-term solution to halibut bycatch in the Bering Sea. A robust, scientifically-sound abundance index is a key step in this process. We look forward to continuing to providing input on this effort.
More on the full range of issues covered in the April meeting can be found in the Council's newsletter.
The next NPFMC meeting will be held June 6-14 in Kodiak. At that time, the Council will be hearing community and stakeholder testimony on the the Gulf of Alaska Trawl Bycatch Management program.
For more information on Council actions and upcoming meetings, visit npfmc.org.
---
Halibut Bycatch Updates
For more than a year, dual concerns regarding declining halibut stocks and community access in the Bering Sea have been a hot button issue for both the International Pacific Halibut Commission (IPHC) and the North Pacific Fishery Management Council (the Council). Despite committed efforts by a diverse array of stakeholders, the precarious state of the Bering Sea halibut fishery remains uncertain heading into the end of 2015.
International Pacific Halibut Commission (IPHC)
During its December interim meeting, the IPHC will be releasing its 2015 stock assessment and 2016 harvest decision table. The stock assessment provides managers with the status of halibut throughout its range in the North Pacific, while the harvest decision table guides the Commission's decision-making as it sets the annual catch limits for 2016. These reports will play a significant role in whether the fishermen in the Bering Sea will have a directed fishery in 2016.
The IPHC is also in a state of transition: in the coming months, the Commission will be hiring a new Executive Director to oversee the IPHC. Additionally, President Obama will make appointments for the two U.S. public seats on the Commission by early 2016. Our hope is that whoever fills these roles will effectively advocate for coastal communities and conservation of the resource, while also bridging the communication and decision making gap between the IPHC and the Council.
More at: www.iphc.int
North Pacific Fishery Management Council (the Council)
The Council's December meeting is fast approaching and it is filled with halibut bycatch agenda items. The Council will first take action on 2016 catch limits for the Bering Sea/Aleutian Island groundfish fisheries, where it may consider reducing catch limits for fish with high rates of halibut bycatch. Although an unorthodox approach in some ways, a reduction in groundfish catch limits could provide short-term relief to both the resource and the halibut-dependent communities of the Bering Sea.
With long-term solutions in mind, the Council will also take up two agenda items that could provide significant improvements to halibut management. First, it will continue public scoping on its draft Halibut Management Framework. The draft framework could provide for more regular and meaningful communication between the Council and the IPHC, as well as enhance avenues for stakeholder input. Next, the Council will be reviewing a discussion paper on abundance-based management for halibut bycatch. AMCC fully supports the Council's efforts to move toward abundance based management, provided the new management approach contains appropriate conservation and community safeguards.
More at: www.npfmc.org/upcoming-council-meetings
Proposed Bycatch Rule
The National Marine Fisheries Service is seeking public comments on the proposed rule that would implement the Council's bycatch recommendations from this past June. Comments are due December 28, 2015. This is your opportunity to tell the National Marine Fisheries Service that the Council did not go far enough in reducing bycatch.
You may submit comments on the proposed rule via the Federal e-Rulemaking portal. Go to www.regulations.gov/#!docketDetail;D=NOAA-NMFS-2015-0092, click the "Comment Now!" icon, complete the required fields, and enter or attach your comments.
---
By Hannah Heimbuch
It's amazing what you can fit into three days. In the case of three Alaska Marine Conservation Council (AMCC) staff members this October, it was more than 6,000 miles, a half-day of lobbying training and several dozen meetings with congressional offices, agency leaders, and conservation partners in our nation's capital.
This trip to Washington, D.C. was my first, and allowed me to witness firsthand what it looks like when diverse groups truly collaborate in pursuit of a better future. This is the promise I see in the Fishing Communities Coalition (FCC).
Presenting as a unified voice on national fisheries policy, the FCC is made up of conservation-minded, community-based fishing organizations that have found common ground in their policy concerns, despite hailing from different corners of America's coastline. At present, the FCC includes AMCC and the Alaska Longline Fishermen's Association, both from Alaska; the Gulf of Mexico Reef Fish Shareholder's Alliance, from Texas; and the Maine Coast Fishermen's Association and Cape Cod Commercial Fishermen's Alliance, both calling New England home.
For a few short, busy days, we joined our partners from the FCC to visit House and Senate offices on Capitol Hill. We were there to introduce ourselves to decision makers from coastal states across the country. Collectively, we spoke to agency leaders and congressional staffers, covering a variety of policy issues important to our small boat fleets: bycatch reduction, electronic/at-sea monitoring, community access to local fisheries, and improved fisheries data collection, and a strengthened Magnuson-Stevens Act (MSA) reauthorization bill.
As House and Senate offices look at options for MSA reauthorization moving forward, the FCC believes it is vital that this important law uphold or enhance current standards of science-based, conservation-minded fisheries management, while also ensuring access for local communities. These essential measures guide the sustainability of our nation's fish stocks and fishing communities.
In the bycatch realm, we shared important information about the halibut bycatch crisis occurring in the Bering Sea — from the massive removal of juvenile halibut by trawl vessels, to the precarious health of directed halibut fisheries coast-wide. The group reminded congressional delegates of the national importance of the halibut fishery, and of the bad precedent being set, with halibut bycatch becoming the priority use of halibut in the North Pacific.
Group members also voiced a need for progressive policies supporting robust at-sea or electronic monitoring, and cohesion of those practices across Council regions. Issues of insufficient data, major funding challenges, and ease of small-boat monitoring were important coalition-wide, including to small boat fleets in New England deeply concerned about excessive haddock bycatch.
Finally, we communicated the continued need to support local access to fisheries. The coalition shared the success stories and ongoing needs for those access rights by pointing out unique community solutions across the country, such as permit and quota banks, while also pushing for improved community access provisions in the reauthorized MSA.
During our Capital Hill visits, our coalition team divided up into two groups and managed to make 21 meetings with Senate and House staffers in a single day. We covered some significant ground — both under our feet and in our policy work — using our united voice to amplify these important issues. We were able to meet directly with two Alaskan delegates, Senator Lisa Murkowski and Representative Don Young. Sitting next to fellow fishermen and fisheries leaders from around the country, and speaking together for responsible policies, was a truly empowering experience.
It is AMCC's hope that as we continue to advocate for federal policies that support a sustainable fishing future, we can offer that experience to more of our community fishermen, infusing voices from Alaska's small boat fisheries into this national arena. We believe it's particularly vital that young fishermen are given the opportunity to participate in this policy work, something I personally look forward to developing.
Those of us that hope to be fishing for the next 30 years — those of us that want to continue the tradition of fishing families and strong local fisheries — must help to guide the long-term vision of the federal policies that do and will shape management of our marine resources. We must demand robust science- and conservation-based standards that allow fisheries, communities and ecosystems to thrive together.
It was incredibly encouraging to see the FCC paving the way for more community voices — the young and veteran alike — to be heard in a meaningful and collaborative way at a national level. As I head back home to Alaska, it is with the knowledge that our local, regional and statewide work is united with this national conservation ethic, of which AMCC and its members should be proud.
---
by Homer Community Fisheries Organizer, Hannah Heimbuch
There's no place like home. And in my case, that place is Homer, Alaska, location of the first ever Homer Halibut Festival. We set aside a lovely fall weekend in September to kick off this festival of the flat fish in the Halibut Capital of the World, and we couldn't have asked for a better year-one shindig. We set out to celebrate the halibut resource, to share some great information and great food with the community, and Homer showed up in droves to make it happen.
We hosted some fantastic speakers from Seattle, Anchorage and Homer who filled us in on halibut ecology, examined economic dynamics from the international market to businesses in our own backyard, and
provided insight into the policy process that manages the incredible economic and ecological engine that is the halibut fishery.
Did you know that halibut larvae spawned in the Eastern Gulf of Alaska drift on major Pacific currents back to the Bering Sea nursery where they mature into those adult fish we all love? Did you know that the sport halibut fishery has become one of the growing avenues for young people to enter into a fishing career? Or that Homer's commercial halibut landings have often been higher than any other port in Alaska? Those are just a few of the many things I learned from the great presenters on September 19th.
The community meal was a testament to the power of local food — feeding at least 300 people with halibut donated by local fishermen and produce from many of our local farmers. At the Halibut Cabaret we had
musicians and storytellers sharing the personal side of the fishing life, and a generous showing of community support through donations and auction bids on the fabulous buoys donated and decorated by Homer fisherfolk and artists. The Halibut Hustle, a 5K run that zipped us around the harbor trail on Sunday morning, had a great turnout of weekend runners.
The other piece of this that I want to celebrate are the dozens of volunteers that gave their time and resources to help plan the festival, paint buoys, prepare food, put up posters, staff events and more. Dozens of businesses donated funds, goods and services — without
which the festival would not have been possible. The community of Homer and beyond truly showed up to make the Homer Halibut Festival a reality.
What did all of this show me? It showed me something that I already suspected — that fisheries are a vital piece of culture and economy here in Homer; and that our community, and many others along the coast, is tied in countless ways to the marine ecosystem. And finally this reminded me that the working waterfronts across Alaska and their coastal residents are vital pieces of the marine web. We are fishermen, neighbors and marine stewards, and together we represent the past, present and future of Alaska fisheries.
Thank you to all of our generous sponsors!
International Pacific Halibut Commission
Alaska Seafood Marketing Institute
Representative Paul Seaton
Trident Seafoods
Alaska Boats & Permits
ANL Corporation
Bulletproof Nets
Captain Mike's Charters
Cook Inletkeeper
Homer Chamber of Commerce
Icicle Seafoods
North Pacific Fisheries Association

Preventive Dental Services
Salmon Sisters
Salty Girls Gifts and Booking
Alice's Champagne Palace
Auction Block
Coal Point Trading Co.
Paul and Jennifer Castellani
Bob Durr
F/V Captain Cook
F/V Challenger
F/V Dangerous Cape
F/V Nuka Point
F/V Sheik
Robert Heimbach
Todd Hoppe

Islands & Ocean Visitor Center
Lori Jenkins
Kachemak Bay Running Club
Sunrise Kilcher
La Baleine Cafe
Land's End Resort
Chris Moss
Jessica Shepherd
Spit Sisters
Kyra Wagner
*For more information about how you can get involved in next year's Homer Halibut Festival, you can contact Hannah at hannah@akmarine.org. And be sure to check out homerhalibutfest.org.
---
Date Posted:
September 18, 2015
Categories:
AMCC Blog
Tags:
Bering Sea, Bering Sea Halibut Bycatch, Federal Fisheries Policy, Fisheries Conservation, Get Involved, Halibut Bycatch, North Pacific Fishery Management Council, Reduce Bycatch, Sustain Alaska's Halibut, Take Action
Although the North Pacific Fishery Management Council failed to recommend meaningful halibut bycatch reductions in the Bering Sea groundfish fishery this past June, there is still time to tell the National Marine Fisheries Service (NMFS) to take action. Ask our Alaskan Congressional Delegation to urge NMFS and the Secretary of Commerce to protect the halibut resource and Alaskan coastal communities.
Please submit this letter and show your support for reducing halibut bycatch in the Bering Sea by October 28, 2015.
---
By Shannon Carroll, Fisheries Policy Director
Originally featured on the Marine Fish Conservation Network
June was a bad month for fishery-dependent, coastal communities. On the back of the passage of H.R. 1335—a bill that puts short-term economic gains ahead of sustainable fisheries—the North Pacific Fishery Management Council (Council) failed to impose significant bycatch cuts to the Bering Sea/Aleutian Island trawl fleet.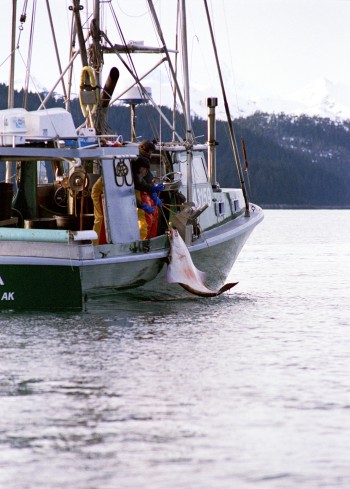 As was noted a few weeks ago, Pacific halibut stocks have been in decline for the past fifteen years. But because bycatch limits have remained relatively static over that time, directed users (those who specifically target halibut in a commercial, recreational, or subsistence fishery) have carried the responsibility of conservation alone, with commercial fishermen in the Bering Sea taking around a 70% reduction in harvest between 2011 and 2014. This situation reached a new level of absurdity in 2014, when the groundfish fishery removed more halibut as bycatch than the entire directed halibut fishery.
While the cuts made by the directed fishery have been felt across the North Pacific, these cuts have been particularly painful for the remote communities of the Bering Sea, such as St. Paul, where the economies and social fabric are nearly entirely dependent on halibut fishing. Coming into the Council meeting, these communities needed more than a 40% cut to bycatch in order to have a directed fishery in 2016.
Under the Magnuson-Stevens Act, the Council must, when amending fishery management plans, adhere to ten national standards that ensure sustainable and responsible fisheries management. These national standards have inherent tension, and it is the Council's job to find balance within these mandates. In the case of halibut bycatch, the Council primarily focused on National Standards 1, 8, and 9. National Standard 1 mandates that the Council prevent overfishing while also achieving optimum yield. National Standard 8 requires that the Council consider community involvement and provide for sustained community participation in the fishery. Finally, National Standard 9 directs the Council to reduce bycatch to the extent practicable.
Balancing these standards is difficult, and because these standards are created to provide some discretion to the Council, they do not dictate a specific outcome. Nonetheless, the halibut bycatch decision demonstrates the limits of these standards, at least with respect to how the standards are disproportionately weighted towards the economics of an industrialized groundfish fleet.
The Council's decision resulted in an aggregate 21% cut to bycatch caps, which only amounts to a 0.7% reduction from 2014 bycatch mortality levels. For the Council, which was short two Alaskan votes due to recusals, the potential economic impacts of decreased groundfish harvest outweighed the smaller economic losses to halibut users. Simply, the Council was unwilling or unable to evenly weigh the benefits of small-scale, community fisheries with those of the industrialized trawl fleet.
This decision will have a significant negative effect on directed halibut users, especially those in the Bering Sea. But it can serve the purpose of shaping our current discussions with respect to Magnuson-Stevens Act reauthorization. Specifically, the Council's decision highlights some of the limits of the current Magnuson-Stevens Act when it comes to addressing bycatch.
Under current standards, curtailing bycatch is limited by the vague and subjective practicability standard and the predominate view that optimum yield trumps bycatch reduction. As the recent Council meeting demonstrates, such standards undervalue community fisheries and overlook the fact that not all bycatch is the same, particularly when one fishery's bycatch supports coastal communities from Nome, AK to Seattle, WA.
Moving forward, strengthening bycatch reduction provisions of the Magnuson-Stevens Act must be a key component of any reauthorization bill. Although the law does mandate some reduction, it must do a better job of distinguishing between different types of bycatch, including bycatch that is itself a valuable and fully utilized fishery. Further, it must also direct the Council to give more weight to sustained community participation as well as indirect economic and social dependence.
Absent such protections, small-scale fisheries that lack the economic clout of the groundfish fleet will continue lose in the National Standards balancing act.
---
Reduction falls short of conservation needs
For Immediate Release: June 8, 2015
Contacts
Shannon Carroll, Fisheries Director, Alaska Marine ConservationCouncil,(907) 382-1590, shannon@akmarine.org
Jeff Kauffman, CEO St. Paul Fishing Company, Bering Sea halibut fisherman, (907) 952-247
Linda Behnken, Alaska Longline Fishermen's Association, Fisherman, (907) 747-0695
After significant public testimony and deliberation in Sitka this week, members of the North Pacific Fishery Management Council voted to cut the halibut bycatch caps for the two largest halibut bycatch users in the Bering Sea, by 25 percent and 15 percent, respectively.
"Though a step in the right direction, the Council's reduction falls short of the cuts needed to ensure the sustained participation of Bering Sea communities in the halibut fishery, and fails to adequately address theconservation concerns voiced over the past week," said Shannon Carroll, Fisheries Director for the Alaska Marine Conservation Council. "While we're glad to see that the Council is committed to working towards a better solution in the future, we feel that the Council missed an opportunity to protect one of our state's most important fisheries."
The decision comes after heated council and public debate around a growing concern for the health of the halibut resource and halibut-dependent communities in the North Pacific. Halibut fleets coast-wide have experienced significant cuts in harvest quota in the past decade, aconservation response to declining stocks — particularly in the Bering Sea. As fleets and decision makers look to provide some relief for halibut-dependent communities on the verge of fishery closure, a critical eye has focused on the Bering Sea's largest halibut user — those who remove halibut as bycatch.
In the Bering Sea in 2014, the groundfish fishery has removed, as bycatch, seven times more halibut than were harvested in the directed fishery. While groundfish fleets have made a number of voluntary reductions to bycatch harvest, bycatch caps have remained relatively static through more than a decade of declining halibut stocks.
"Reflecting back on our community and our small boat fleets, and the uncertainty that this brings to our fleet, not knowing if we are going to have a fishery or not, we were disappointed in the final action that was approved and felt like it didn't go far enough, particularly for some sectors," said Jeff Kauffman, a halibut fisherman from St. Paul and a member of the Advisory Panel. "We're very concerned about the future. For St. Paul's future, and in the Bering Sea and the Aleutian island communities —what this means for our way of life and our economy if it goes away."
The recent council decision generated dissatisfaction from both sides. Halibut fishermen see the cuts falling far short of the meaningful change needed for essential conservation of the resource, and for salvaging minimum fishing opportunities for communities in the Bering Sea that are almost entirely dependent on the halibut fishery. Groundfish representatives claim that the reduction represents an unattainable cut for which they lack the tools to carry out without significant economic harm.
###
---