bering-sea
This month our Q&A series is shining the spotlight on the newest member of our staff. Meet Connie Melovidov, our fantastic 2016 summer intern! Connie came to AMCC through Alaska Conservation Foundation's conservation internship program. Connie was raised in the remote Bering Sea community of Saint Paul Island. Growing up in the Pribilof Islands, which are culturally and economically influenced by both a rich subsistence lifestyle and the commercial halibut industry, she became interested in science and fisheries. Her father and brothers are commercial halibut fishermen, and Connie has enjoyed a few long-lining trips herself. Currently, Connie is a senior attending the University of Alaska Anchorage majoring in biology.
During her time with AMCC, Connie is primarily supporting our Fisheries Conservation and Catch of the Season programs. We're lucky to have her on board this summer!
How did growing up in a remote Bering Sea community shape who you are today?
I absolutely love that I was able to grow up in Saint Paul Island. Growing up in this small and tight-knit community allowed me to recognize the value of family. I grew up spending a lot of time with my siblings and I was also very fortunate to have been able to grow up around almost all of my extended family. I also take pride in the fact that other members in the community are always looking out for one another and ensuring everyone is being taken care of. The island is filled with an abundance of amazing wildlife and plants for us to gather and subsist on, and and everyone loves to share food.
Now that I'm older and have spent time away to go to college I really value my visits back home. Growing up in the Pribilofs gave me unique and useful life lessons that I probably wouldn't have had the privilege of experiencing if I had grown up in a larger city.
What is your most vivid fishing memory?
My very first halibut fishing trip was on my dad's boat, the FV Aleut Crusader. I was 14 years old and I was with my dad, three brothers, and a family friend. I woke up SUPER early because I was worried I was going to sleep in and it was very rare that I was able to go fishing. Good weather is hard to come by! I got lucky. It was a gorgeous day and I didn't get seasick!
When I boarded the boat I got comfortable in the cab where I started to watch my brothers begin their routine to prepare for the day. I could see and smell the freshly baited hooks, which made me more excited to finally be on the water and observe the long-lining process.
It was finally time to haul our first string and I remember hearing my dad and oldest brother talking back and forth because fish were finally starting to surface out of the water. I eagerly watched my brother gaff halibut after halibut! The whole crew was beaming as halibut continuously came onboard.  
All day I listened to the constant communication between everyone, watched how hard each crewman worked, and the teamwork they demonstrated. This is one of my most cherished memories I have with my father and brothers.
Does your family have any fishing traditions?
My mom, sister and I always greet my dad and his crew down at the harbor when they are delivering their fish to the processor. This is one of the best ways to see the halibut, ask how their fishing trip went, and also to see how other vessels did.
You're majoring in biology at University of Alaska-Anchorage. How do you plan on using your degree?
I haven't fully decided on what exactly I want to do after I get my degree. I'm very interested in marine biology and Saint Paul's fishing industry so finding a balance between the two is what I'd prefer.
What are you excited to work on or learn more about during your internship this summer?
I'm excited to be learning more about AMCC's advocacy programs and how they address the social and economic concerns of other small coastal fishing communities.
What part of AMCC's work resonates most with you?
I really value AMCC's mission and how we share information effectively to the general public, fishing communities and policymakers around the state.
Where in Alaska would you like to visit or spend more time?
I went to high school in Sitka, Alaska—so gorgeous!—so I would love to spend even more time exploring Southeast Alaska.
---
By: Shannon Carroll, Fisheries Policy Director
Last June, the North Pacific Fishery Management Council (Council) promised to take further action on halibut bycatch in the Bering Sea. Over the course of the past several meetings, the Council has followed through on that promise, developing a draft strategic plan for halibut issues, strategies for improved communication with the International Pacific Halibut Commission (IPHC), and a framework for an abundance-based halibut bycatch policy.
During the April Council meeting in Anchorage, the Council voted to continue evaluating an abundance-based approach to halibut bycatch in the Bering Sea. This followed a presentation by the abundance-based bycatch workgroup—which consists of Council, National Marine Fisheries Service, and IPHC staff—as well as testimony by halibut stakeholders, including AMCC. The workgroup's current focus is determining an index for halibut abundance that can, among other things, be used to effectively capture the impact of bycatch removals on Bering Sea halibut. The workgroup will continue analyzing various indicators used to measure halibut abundance and will be holding a public workshop sometime in August. Abundance-based halibut management will likely be on the agenda again in October.
AMCC appreciates the Council and workgroup's continued effort find a long-term solution to halibut bycatch in the Bering Sea. A robust, scientifically-sound abundance index is a key step in this process. We look forward to continuing to providing input on this effort.
More on the full range of issues covered in the April meeting can be found in the Council's newsletter.
The next NPFMC meeting will be held June 6-14 in Kodiak. At that time, the Council will be hearing community and stakeholder testimony on the the Gulf of Alaska Trawl Bycatch Management program.
For more information on Council actions and upcoming meetings, visit npfmc.org.
---
By: Hannah Heimbuch, Community Fisheries Organizer
The North Pacific Fishery Management Council (Council) met for its final meeting of 2015 in Anchorage this month, setting groundfish harvest numbers for the coming year, while also diving into a wide range of other topics. Bycatch, along with abundance- and ecosystem-based management, continued as major themes for the Council.
       In other bycatch conversations, the Council reviewed a roadmap outlining the analytical process for the development of a Gulf of Alaska Trawl Bycatch Management Program. After revising and adding to the range of alternatives under consideration in October, Council and National Marine Fisheries Service (NMFS) staff produced a work plan which lays out proposed steps to develop a Draft Environmental Impact Study by the end of 2016. Throughout this ongoing bycatch management initiative, AMCC has advocated for measures built into the program that protect community access to fishing rights, and options for the continued reduction of bycatch. We appreciate and look forward to the analysis of the new alternative introduced by Commissioner Cotten which would only apportion Chinook salmon and halibut to voluntary inshore cooperatives based on their members vessels. This is  a new and innovative approach to provide for a cooperative style management without allocating the target species and thus the associated fishing rights.
As the need for information and options around bycatch management continues to increase, the Council is also exploring the potential of abundance-based halibut bycatch limits. The Council voted to initiate a workgroup, collaborating with NMFS and the International Pacific Halibut Commission, to evaluate options for moving bycatch management away from fixed limits, and toward limits that fluctuate with abundance (much like harvest). AMCC supports a move toward a bycatch management system that is more responsive to both conservation needs and balance between sectors, particularly in times of low abundance. The Council also tasked the workgroup with evaluating bycatch of juvenile halibut in terms of their long-term potential spawning potential. This is another important consideration, recognizing the stock-wide impact of removing large numbers of juvenile halibut, as seen in the Bering Sea/Aleutian Islands groundfish fisheries.
Finally, the Council has also advanced the topic of ecosystem-based management after hearing staff reports and a discussion paper on a Bering Sea Fishery Ecosystem Plan (FEP). Going forward, Council staff is tasked with developing the core FEP, and taking steps toward forming a Bering Sea FEP team and plan for public outreach. The Council has long been a leader in implementing ecosystem-based fishery management measures into its fishery management policies and the FEP is an important step in furthering that tradition.
For more information on Council actions and upcoming meetings, visit npfmc.org.
---
Join us to celebrate and protect Bristol Bay & Bering Sea fisheries during this year's Pacific Marine Expo.
What: Fishermen's Reception
Who: Fishermen and supporters of protecting Bristol Bay from offshore drilling and the Pebble Mine
When: Thursday, November 19th, 5-7pm
Where: The Piranha Shop, 1022 1st Ave. S.
*Delicious seafood appetizers and drinks by Orfeo Catering.
---
Date Posted:
September 18, 2015
Categories:
AMCC Blog
Tags:
Bering Sea, Bering Sea Halibut Bycatch, Federal Fisheries Policy, Fisheries Conservation, Get Involved, Halibut Bycatch, North Pacific Fishery Management Council, Reduce Bycatch, Sustain Alaska's Halibut, Take Action
Although the North Pacific Fishery Management Council failed to recommend meaningful halibut bycatch reductions in the Bering Sea groundfish fishery this past June, there is still time to tell the National Marine Fisheries Service (NMFS) to take action. Ask our Alaskan Congressional Delegation to urge NMFS and the Secretary of Commerce to protect the halibut resource and Alaskan coastal communities.
Please submit this letter and show your support for reducing halibut bycatch in the Bering Sea by October 28, 2015.
---
By Shannon Carroll, Fisheries Policy Director
Originally featured on the Marine Fish Conservation Network
June was a bad month for fishery-dependent, coastal communities. On the back of the passage of H.R. 1335—a bill that puts short-term economic gains ahead of sustainable fisheries—the North Pacific Fishery Management Council (Council) failed to impose significant bycatch cuts to the Bering Sea/Aleutian Island trawl fleet.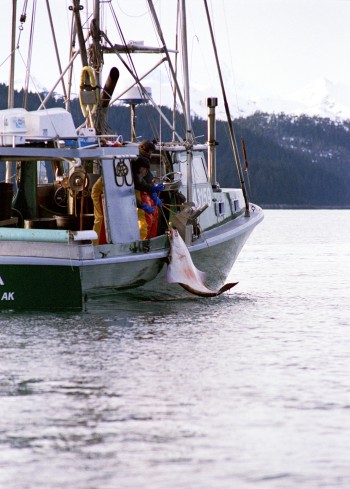 As was noted a few weeks ago, Pacific halibut stocks have been in decline for the past fifteen years. But because bycatch limits have remained relatively static over that time, directed users (those who specifically target halibut in a commercial, recreational, or subsistence fishery) have carried the responsibility of conservation alone, with commercial fishermen in the Bering Sea taking around a 70% reduction in harvest between 2011 and 2014. This situation reached a new level of absurdity in 2014, when the groundfish fishery removed more halibut as bycatch than the entire directed halibut fishery.
While the cuts made by the directed fishery have been felt across the North Pacific, these cuts have been particularly painful for the remote communities of the Bering Sea, such as St. Paul, where the economies and social fabric are nearly entirely dependent on halibut fishing. Coming into the Council meeting, these communities needed more than a 40% cut to bycatch in order to have a directed fishery in 2016.
Under the Magnuson-Stevens Act, the Council must, when amending fishery management plans, adhere to ten national standards that ensure sustainable and responsible fisheries management. These national standards have inherent tension, and it is the Council's job to find balance within these mandates. In the case of halibut bycatch, the Council primarily focused on National Standards 1, 8, and 9. National Standard 1 mandates that the Council prevent overfishing while also achieving optimum yield. National Standard 8 requires that the Council consider community involvement and provide for sustained community participation in the fishery. Finally, National Standard 9 directs the Council to reduce bycatch to the extent practicable.
Balancing these standards is difficult, and because these standards are created to provide some discretion to the Council, they do not dictate a specific outcome. Nonetheless, the halibut bycatch decision demonstrates the limits of these standards, at least with respect to how the standards are disproportionately weighted towards the economics of an industrialized groundfish fleet.
The Council's decision resulted in an aggregate 21% cut to bycatch caps, which only amounts to a 0.7% reduction from 2014 bycatch mortality levels. For the Council, which was short two Alaskan votes due to recusals, the potential economic impacts of decreased groundfish harvest outweighed the smaller economic losses to halibut users. Simply, the Council was unwilling or unable to evenly weigh the benefits of small-scale, community fisheries with those of the industrialized trawl fleet.
This decision will have a significant negative effect on directed halibut users, especially those in the Bering Sea. But it can serve the purpose of shaping our current discussions with respect to Magnuson-Stevens Act reauthorization. Specifically, the Council's decision highlights some of the limits of the current Magnuson-Stevens Act when it comes to addressing bycatch.
Under current standards, curtailing bycatch is limited by the vague and subjective practicability standard and the predominate view that optimum yield trumps bycatch reduction. As the recent Council meeting demonstrates, such standards undervalue community fisheries and overlook the fact that not all bycatch is the same, particularly when one fishery's bycatch supports coastal communities from Nome, AK to Seattle, WA.
Moving forward, strengthening bycatch reduction provisions of the Magnuson-Stevens Act must be a key component of any reauthorization bill. Although the law does mandate some reduction, it must do a better job of distinguishing between different types of bycatch, including bycatch that is itself a valuable and fully utilized fishery. Further, it must also direct the Council to give more weight to sustained community participation as well as indirect economic and social dependence.
Absent such protections, small-scale fisheries that lack the economic clout of the groundfish fleet will continue lose in the National Standards balancing act.
---
The North Pacific Fishery Management Council (Council) spent a large part of its deliberations in Sitka last week focused on Bering Sea/Aleutian Islands (BSAI) halibut bycatch. Following significant public testimony, the Council, in a 6-3 vote, approved an aggregate 21% reduction in halibut bycatch across all BSAI groundfish sectors.
Many Alaskans were left disappointed by the decision. Alaska voting members Duncan Fields, Alaska Department of Fish and Game Commissioner Sam Cotten, and Council Chairman Dan Hull opposed the amended motion, saying the reduction did not come close to addressing either the conservation needs of a declining halibut stock or the needs of Bering Sea halibut fishermen trying to maintain a directed fishery.
The decision comes after growing concern for the health of halibut stocks and halibut-dependent communities in the North Pacific. The Bering Sea serves as a nursery to the majority of the Pacific's juvenile halibut, with the majority of juveniles migrating eastward, down the West Coast. Halibut stocks in the Bering Sea have been declining for over a decade, however, and halibut fishermen coast-wide have experienced a corresponding reduction in harvest quota — particularly in the Bering Sea. Recreational fishermen have also faced significant restrictions on their activities. Yet, bycatch caps for the BSAI groundfish fishery have remained relatively static for the last 20 years. The situation came to a head in 2014, when the BSAI groundfish fishery groundfish fishery removed — as bycatch — seven times more halibut than the directed fishery harvested.
"Though a step in the right direction, the Council's reduction falls short of the cuts needed to ensure the sustained participation of Bering Sea communities in the halibut fishery, and fails to adequately address the conservation concerns voiced over the past week," said Shannon Carroll, Fisheries Director for the Alaska Marine Conservation Council. "While we're glad to see that the Council is committed to working towards a better solution in the future, we feel that the Council missed an opportunity to protect one of our state's most important fisheries."
AMCC is disappointed that the Council did not take a meaningful action toward the long-term conservation of both the resource and the halibut-dependent communities where the resource represents more than economic opportunity. Looking toward the future, AMCC will continue to work with diverse user groups to further reduce bycatch in the Bering Sea. Though still in the earlier stages of the process, other tools for bycatch reduction were discussed at the meeting, including abundance-based caps and increased collaboration between the Council and the International Pacific Halibut Commission.
---
Date Posted:
May 20, 2015
Categories:
AMCC Blog
Tags:
Bering Sea, Bering Sea Halibut Bycatch, Calendar/Events, Fisheries Conservation, Get Involved, Halibut Bycatch, North Pacific Fishery Management Council, NPFMC, Reduce Bycatch, Sustain Alaska's Halibut
With the June meeting of the North Pacific Fishery Management Council (the Council) less than a week away, supporters of halibut bycatch reduction in the Bering Sea are working hard to communicate to the Council Alaskans' strong support for bycatch reduction.
The meeting is slated for June 1-9 in Sitka, and will include discussion and potential final action on Bering Sea/Aleutian Islands (BSAI) bycatch reduction.
Since 2005, landings from halibut fishermen have been cut by 63% in the Bering Sea, while halibut bycatch caps for non-halibut fisheries have not been measurably reduced for 20 YEARS! This inequity has created a stark disparity between halibut fishermen and fisheries that harvest halibut as bycatch in the Bering Sea. In 2014, Bering Sea groundfish fisheries killed and discarded 7 times more more halibut (number of fish, not pounds) than the halibut fishery in landed in the same region or over 5 million pounds!
BSAI halibut bycatch in 2014 came in at roughly one million fish, with an average weight of just under 5 pounds. Tagging studies show that from these large groups of juvenile halibut feeding in the Bering Sea, 70-90% of them are slated to migrate to other areas upon maturity. The removal of large numbers of these juvenile animals from the ecosystem is a critical stock concern for any halibut fisherman or consumer in the North Pacific, from California to Alaska.
How to Comment
It is vital that the North Pacific Fishery Management Council (the Council) hear from halibut users from across the North Pacific. Join other fishermen and communities across Alaska and write to the Council today asking them to reduce halibut bycatch caps in the Bering Sea by no less than 50%! The deadline for written comment is Tuesday, May 26, 2015. Only a meaningful reduction will give the halibut fishery and the communities that depend on halibut the relief they need. Policy makers should not prioritize bycatch over other harvests and the long term health of juvenile halibut populations. The North Pacific Fishery Management Council is responsible for managing halibut bycatch in the Bering Sea and as stewards of this resource, it is time to take action to reduce bycatch.
*To submit comments to the North Pacific Fishery Management Council, email your comments to npfmc.comments@noaa.gov with "C2 Bering Sea Halibut PSC" in the subject line. Copy our Congressional Delegations in your comments – Alaska's representatives need to hear how Alaskans feel about bycatch. Letters can be copied to:
Senator Lisa Murkowski – Ephraim_froelich@murkowski.senate.gov
Senator Dan Sullivan – erik_elam@sullivan.senate.gov
Congressman Don Young – bonnie.bruce@mail.house.gov
For more information on how to comment or testify in person, please visit npfmc.org or contact:
Other Ways to Participate:
Testify in person: The Council takes public testimony on every agenda item. The meeting starts June 1 and runs through June 9 in Sitka, AK. To testify in person, sign up at the Council meeting before public comment on that agenda item begins.
Listen online: We will post the link to listen on Facebook on the first day of meetings.
Support AMCC's work on important issues: AMCC has staff at every Council meeting, advocating for the health of marine ecosystems and fishing communities. Donations from individuals like you are essential to maintaining this key role. Help support our work today: donate now.
Read What Other Alaskans Have to Say:
For past updates on this issue, click here.
---
By Hannah Heimbuch, AMCC Community Fisheries Organizer
Featured in the Alaska Journal of Commerce
This time of year I split my days between my computer and the harbor, trying not to bring too much of the bait smell back to the office with me. Herring oil or not, it's been my great fortune to find work in my hometown that allows me to always be talking about, writing about or looking for fish.
I'll be on the grounds this time next week, hauling in Pacific halibut, finding rhythm again for another season on the water.
I'll also be considering what's coming up after I return to homeport — the June convening of the North Pacific Fishery Management Council in Sitka. There the Council will take final action on the proposed reduction of halibut bycatch caps in the Bering Sea/Aleutian Islands, or BSAI, region.
This decision point comes after a decade of steady stock decline, during which time the directed halibut fishery quota in the BSAI has dropped by 63 percent. Halibut fishermen in the hardest hit region — the Central Bering Sea — are facing closure if meaningful change doesn't come out of the June meeting. Their crisis point has arrived.
In the meantime, halibut bycatch caps in the BSAI stand the same as they were set during peak abundance decades ago. In 2014, BSAI groundfish fisheries caught and discarded seven times more halibut (number of fish) than the directed fishery landed.
In a state that celebrates its commitment to sustainable fisheries, we have created through inaction an epic inequity in the Bering Sea, allowing a management system that prioritizes bycatch over directed fisheries.
But it's more than that. There are some that would tell you that a reduction of bycatch in favor of returning quota to the directed fishery is solely an allocation decision. While in some ways it is — under well-defined legal and ethical standards that say one fishery should not carry on unchanged at the cost of another collapsing — it is also a serious conservation issue.
At an average weight of just under 5 pounds, the vast majority of the 1 million halibut caught as bycatch in the BSAI last year were juvenile fish. Tagging studies conducted by the International Pacific Halibut Commission show that 70 percent to 90 percent of juvenile halibut can and do migrate out of the BSAI to all other areas of the North Pacific.
So when we talk about halibut bycatch in the Bering Sea, we're talking about high volume removals of a stock that supplies every halibut fishery from Nome to California. We're talking about a reduction in numbers and essential genetic biodiversity. This is a conservation issue.
A 5-pound halibut is well under the size that commercial halibut fishermen are allowed to keep. Regardless of the harvester, higher yield is achieved by harvesting larger fish.
At the current rate and average size of bycatch, fishing pressure in the BSAI is diminishing juvenile cohorts before the stock is able to grow into collective maturity — an essential standard for sustainable fishing practices.
This scenario shows us that we cannot directly compare the harvest impact of halibut bycatch and directed halibut harvest. They are harvesting from different populations, and one is removing significantly more animals from the ecosystem than the other. This is a conservation issue.
Finally, the entire situation of a declining halibut stock is a conservation issue. Our regulations have simply failed to require halibut bycatch harvesters to participate in it. The Bering Sea halibut fleet has done everything but sell their boats in an effort to conserve the halibut stock. It's time that other groups share the burden of that conservation.
As someone who makes her living off the ocean, I know what I'm asking for, and it's significant. A 50 percent cut in bycatch will mean change for the groundfish fleet in the BSAI.
Not impossible change, not crippling change, but it will mean change. However, the alternative is the demise of one fishery, and the continued risk of coast-wide stock health. While I respect the voluntary reductions in bycatch the groundfish fleet has achieved, a meaningful regulatory conservation effort is long overdue.
Please advocate for a meaningful reduction of halibut bycatch caps in the Bering Sea. Email comments to npfmc.comments@noaa.gov. The deadline to comment is 5 p.m. on Tuesday, May 26.
---
By Marissa Wilson, AMCC Board Member
Originally published in the Homer Tribune
A small but formative fraction of my life has been spent gazing out salt-sprayed windows at rugged terrain and open ocean.  My father's silhouette was always incorporated in the scenery, reflected on the glass that shielded our fragile flesh from the elements. As he sat in the helm seat, occasionally leaning forward to alter our course or to study charts that he had known longer than he knew me, I looked out the window and absorbed what it meant to be a fisherman.
Thousands of miles of coastline, spanning from Attu to Port Townsend, have passed like this. The ocean below our vessel once seemed a vast unknown, prodded only by our longline gear in highly specific areas — little lines draped along ridges at particular depths within abstract boundaries. Throughout my adolescence, I became increasingly aware of certain truths surfacing from those depths. Halibut have become smaller, harder to find, and the amount we've been allowed to catch has declined significantly. Privately, I became concerned about the fate of our ocean-dependent lifestyle. My father has fished commercially for forty years. With the trend I witnessed, I couldn't see how I would manage to do the same.
Adulthood brought the sobering realization that problems rarely fix themselves. With my mind set on a serious long-term relationship with halibut, I recognized the importance of understanding my partner and the issues it faced. I diversified my connection by working on a charter boat. Harvesting halibut for my own freezer strengthened the bond. The deeper I got into the world of fish, the more complex but interconnected it revealed itself to be.
Research from the International Pacific Halibut Commission, conducted since the 1920s, has revealed significant information about the lifestyle of the flatfish.
Halibut move offshore to breed in the deeper waters off the continental shelf. Eggs and larvae get carried with the currents in a counter-clockwise direction, turning an area northwest of the Gulf of Alaska into the landing ground — the nursery — for halibut stock. This is where the Bering Sea becomes a focal point in the lifecycle. As they mature, juvenile halibut begin a southern and eastern migration to counter the initial drift. As such, the Bering Sea/Aleutian Islands, or BSAI, is critical to the abundance of the resource throughout its population distribution.
The groundfish fleet that fishes in the Bering Sea consists of a handful of vessels owned by Seattle-based companies. This small fleet of huge ships drags large nets through the water, targeting groundfish — often shipped overseas for processing and consumption. In the last ten years — since I first started baiting longline hooks — 62.6 million pounds of halibut have been caught and killed in the BSAI as bycatch in those groundfish fisheries, 79 percent of that from one area, the Central Bering Sea.
Most of the halibut scooped up in trawl gear as bycatch are juveniles. Last year in the BSAI, one million halibut were caught in trawls. The average size of those fish: just 4.8 pounds. Beyond the immediate loss of these fish, the depletion of juvenile halibut stock prevents a robust population from maturing and taking hold along the entire coast. Of the juvenile halibut caught in trawl gear, 70 to 90 percent were destined to migrate to the Gulf of Alaska, Canada, Washington, Oregon, and California.
The potential exponential growth of those wasted fish is incalculable, and their documented range makes this a coast-wide issue.
In publications issued by the trawl fleet, the current amount of bycatch is described as inconsequential. Their case is, notably, made in light of the profitability of trawling. Commercial, charter, and subsistence fishers along thousands of miles of coastline would likely disagree about the impact of the loss. Direct users of halibut absorb the negative consequences of a wasteful industry with deep pocketbooks and broad regulatory influence.
I think back to those precious moments of stillness between sets or ports, my tired head resting against a cold salt-sprayed window; reflecting. Will future generations have a robust resource to ponder over?
The coastline I've traced is linked by more than the wake of my memories — it's connected by the processes of life and the power of continuity. Lifestyle preservation is, admittedly, an easy cause to fight for. Culture is the breath of human experience. But protecting personal interests over the health of the environment that sustains us is a plague that has led to the collapse of fisheries all around the world.
To the 2,714 halibut IFQ holders aboard the 1,157 vessels that fish it; the 77 registered buyers of halibut in the 32 communities where those fish land; the thousands of charter captains, deckhands, subsistence fishers, processors, and consumers of halibut: keep the Bering Sea on your radar.
This impacts you.
In June, the North Pacific Fishery Management Council will decide whether or not to reduce the cap on Bering Sea halibut bycatch for the first time in decades. It is imperative that they make a meaningful cut, and reduce halibut bycatch in the Bering Sea/Aleutian Islands by 50 percent. Please speak up on this issue, and send your comments to npfmc.comments@noaa.gov.
For more on the issue visit: halibut bycatch.
---